Mitigate the Risk of Ransomware Attacks Against Critical Infrastructure with XONA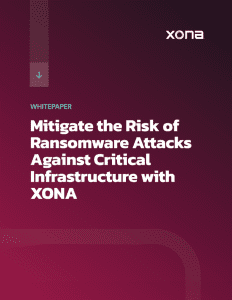 Malicious cyber actors are targeting and attacking critical infrastructure, including industrial control systems, at an increasingly rapid pace. Ransomware attacks targeting operational technologies pose both a significant safety and economical threat to organizations and the general public.
Corporate leadership is faced with a dilemma of how to mitigate the exposure to ransomware attacks on OT control systems without impacting operations. Effectively, OT systems need a Zero-Trust, secure operational gateway for user access with Multi-Factor Authentication (MFA), flexible role and time-based user and vendor access controls as well as full session logging, monitoring and recording.
To download the full paper, please fill out the below form.